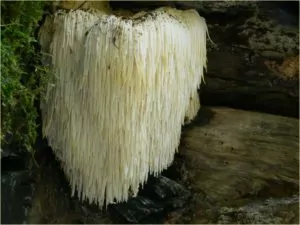 Origin: Dried and powdered Lion's Mane mushrooms native to North America, Europe, and Asia
Also Known As: 
Hericium erinaceus
Lion's mane mushroom
Hou tou gu
Yamabushitake
Monkey head mushroom
Bearded tooth mushroom
Satyr's beard
Bearded hedgehog mushroom
Pom pom mushroom
Bearded tooth fungus
Overview: 
It contains a number of polysaccharides, such as B-glucan, heteroglucans, and heteroxylans, as well as several cyathane derivative diterpenoids known as hericenones and erinacines.
Suggested Uses:
Protecting against dementia
Relieving mild symptoms of depression and anxiety
Speeding recovery from nervous system injuries
Protecting against ulcer in the digestive tract
Reducing risk for heart disease
Managing diabetes symptoms
Potentially fighting cancer
Reducing inflammation and oxidative stress
Boosting the immune system
Common Dosage: Currently there is no standard dosage for Lion's Mane powder. However, studies have used 750 mg per day divided into three doses.