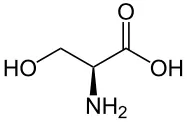 Origin: Synthesized by the body from glycine or can be sourced from supplements or food items such as meat, dairy, soy, and nuts.
Also Known As:
Serine
2-Amino-3-hydroxypropanoic acid
Overview: L-Serine is a nonessential amino acid required for the metabolism of fat, tissue growth, as well as the immune system because it assists in the production of immunoglobulin and antibodies. L-Serine is also a constituent of brain proteins and nerve coverings and also plays an important role in the formation of cell membranes.
Common Dosage: Up to 2000 mg per day