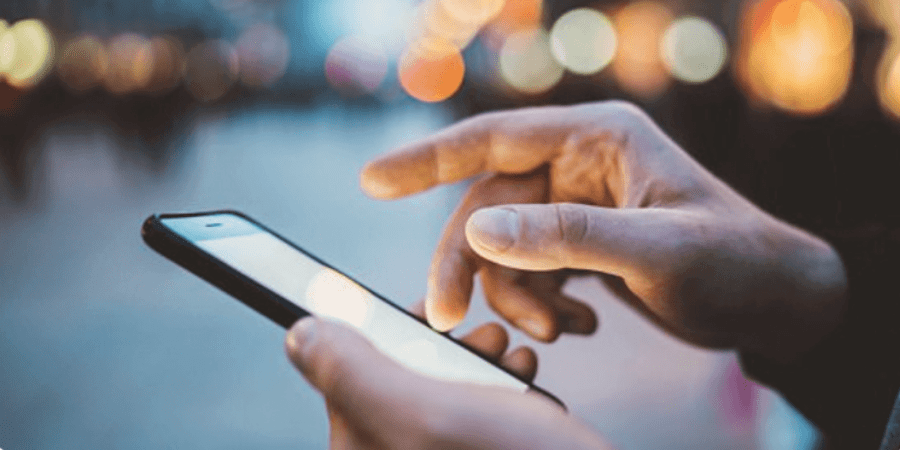 So, you want to increase your sales? It's time you leveraged SMS marketing.
You've probably heard about how SMS marketing has a whopping 98% open rate. But did you know that 90% of text messages are read within the first 3 minutes, and the response rate is around 45%?
Wondering exactly how to get started with SMS marketing? You're in luck. In this article, we'll offer you our top 10 e-commerce SMS templates. You can customize them to suit your needs and start using them straight away.
But first, let's go over a few details about SMS marketing.
SMS marketing laws
Be aware of the law in your country or region regarding SMS marketing messages. In the United States, you have to comply with the Telephone Customer Protection Act and CAN-SPAM. In Europe, you must be in line with the GDPR.
Basically, what this means is that you must get customers' express permission before you can send them marketing messages. Customers must opt-in to receive your messages, and you can only send them the information they have agreed to receive.
Customers must also have the option to unsubscribe at any time.
There are serious consequences for breaking these laws, so make sure your marketing fits within these regulations.
How many unread emails are sitting in your personal inbox right now? If you're like most people, probably a lot!
SMS is different. When your phone buzzes in your pocket, you probably struggle to resist the temptation to check it and see who contacted you. Wherever you are, curiosity gets the better of you.
Done right, SMS marketing is a powerful tool. It brings you closer to your customers and allows them to stay well-informed about their orders and any important news about your store.
A customer's phone number is highly personal information, and you can do a lot with it.
For an e-commerce store, having such a direct connection to your customer is priceless. Therefore, you need to use this connection wisely.
You don't want to annoy your customers or interrupt their day, so make sure you're sending a well-planned message that they will be happy to receive.
Don't overdo it. Choose a few important SMS e-commerce templates and use them sparingly.
Customers will unsubscribe in a heartbeat if your messages are too intrusive.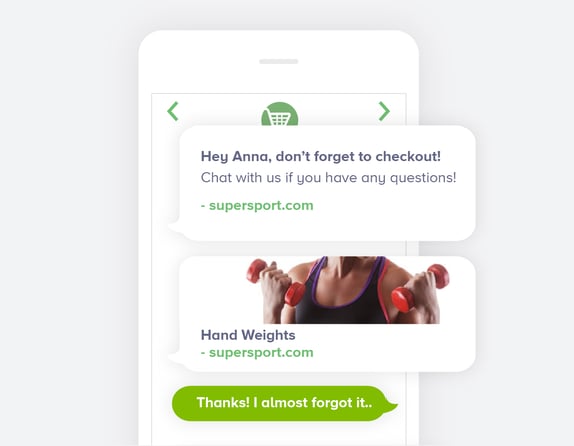 Tips for great e-commerce SMS marketing messages
Below you'll find 10 essential templates to help e-commerce businesses get started with SMS marketing. But before we get to them, here are some important pointers to remember when sending any type of SMS marketing message:
Personalize the following templates to create relevant SMS messages that your e-commerce customers will be happy to receive.
Use first names and send offers on relevant products.
Always include a call to action. Let your customer know exactly what steps you want them to take next. Make it clear and simple to follow (click on a link, text back)
Use persuasive language. You have a limit of 160 characters, so write copy that is brief and impactful.
Now that's out of the way, let's look at our top 10 SMS e-commerce templates.
New customer welcome SMS
If a customer has opted in to receive SMS messages from you, that's excellent news.
They have given you a highly valuable piece of information, their personal phone number, and permission to use it.
Why not thank them with a friendly welcome message and throw in a discount to sweeten the deal?
Hi (name). Thanks for opting-in to receive messages from us at (company name.) To show our gratitude here's 10% off your first order with the discount code: FIRST
Promotional discount SMS
We mentioned that customers can unsubscribe at any time from your list, so you've got to make it worthwhile for them to stay.
If they aren't receiving any extra benefits, they might opt-out.
How do you avoid losing your hard-won contacts? Every once in a while, offer an exclusive deal for your SMS subscribers only.
Hi, (name of the person)! Have you seen our new summer collection? Type in (insert code) to claim your exclusive discount and receive 15% off: (your website's URL).
E-commerce loyalty program SMS
SMS is a great channel to inspire your customers to enroll in a loyalty program. Combine a tempting offer and an easy sign-up process to encourage them to sign up.
Here's one of our SMS e-commerce templates that you could send to your high-value customers:
Hi (Name), Thanks for shopping with (company name). Do you want to become a VIP member and receive exclusive offers? Hit reply and type: VIP. Thanks, the (company name) team.
Upcoming sales SMS
Who doesn't get excited by the word "sale"?
Drop your customers a text when a sale starts. Turn up the pressure by emphasizing that the sale is only for a limited time and use words like now and hurry. You'll have customers scrambling to add your products to their cart.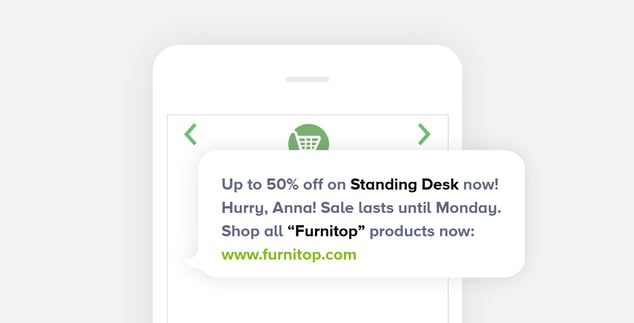 Order and shipping confirmation SMS
After your customer places an order, send a text message thanking them for their order, and provide a link so they can track the status of their order.
Thanks for shopping with us, (name)! Your order has been confirmed. To check the status of your order, click here: (link)
When you ship the product, you can send a shipping confirmation via SMS to get your customers excited. This also increases the chances of a successful, stress-free delivery.
Use SMS to ask customers for feedback
Your customer's opinions are valuable, so try and get feedback as much as you can.
Why not send your customers a personal thank you over text? While you're there, you can ask for feedback on their last purchase.
Not all customers will bother to go to your website or an external site to write a review. However, SMS can be a great way to get some valuable feedback about your e-commerce store. Remember to make it super easy for customers to give their opinion via SMS.
Thanks for your purchase of (product name). We value your feedback and are always looking to improve. On a scale of 1-10, how was your experience with (company name)?
You can follow up with one or two more questions, but don't bombard your customers with texts. Instead, consider sending a link to a survey they can complete online.


Anniversary or birthday SMS
Show your customers you care about them and appreciate their business.
When you gather client data during registration or first purchase, ask for their date of birth. Then, create an SMS campaign to align with each customer's birthday.
A highly personalized promotion like this will show your customers that your brand goes the extra mile to make them feel special.
Happy Birthday, (name)! To celebrate, we're offering you a 20% birthday discount with code: BDAY. Valid for the whole month of July!
You can also offer a reward to celebrate other milestones such as the anniversary of their first purchase.
Upcoming holiday SMS
People receive tons of special offers and marketing materials around important shopping holidays like Valentine's Day, Easter, and Christmas.
The vast majority of those messages will land in their email inbox.
Why not send an SMS to stand out from your competition?
Ready for Christmas? Find the perfect present for the man in your life. Browse our limited-edition winter collection here: (insert link). Reply "XMAS" to receive a 10% discount.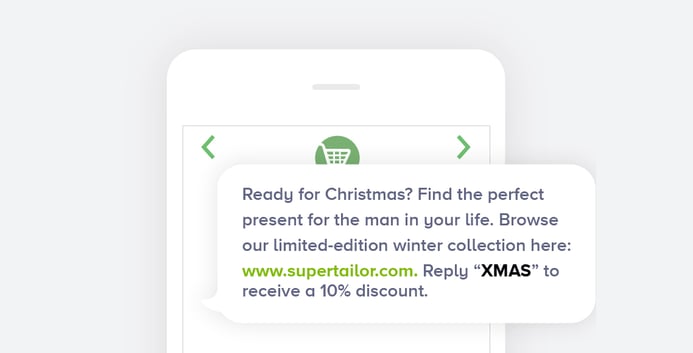 SMS Competitions
A great way to engage your subscribers is through an online competition. Make sure the bar to entry is low so everyone feels like they have a chance to win.
Hi (name), take part in our amazing giveaway! Message YES for a chance to win top prizes like a deluxe pampering set. Thanks, the (company name) team.
Abandoned cart SMS template
Retargeting is a really important tactic if you want to avoid lost sales (and who doesn't?). It's crucial to personalize your retargeting text messages. Include a link to their cart and remind the customer if they have any unclaimed discounts.
Hi (name). You didn't complete your order on (company name). Don't forget to claim 10% off your first order with code: FIRST. Click here to view your cart: (link)
And there you go – 10 SMS templates you can start using in your e-commerce store today, so what are you waiting for?
If you want to quickly and painlessly get an SMS campaign off the ground, Carts Guru has you covered. Just create an account and sync your existing customers, and we will take care of the rest.