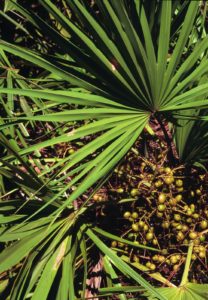 Origin: Extracted from the berries of the saw palmetto (Serenoa repens) plant.
Also Known As:
Serenoa repens
American Dwarf Palm Tree
Overview: Saw Palmetto is a natural extract that comes from the berries of small palm trees. The extracts are comprised of various saturated and unsaturated fatty acids (no cholesterol) and sterols. Saw Palmetto is a popular extract used by men.
The Saw Palmetto palm trees bearing berries are found in the Southeastern United States. Many studies have been done that confirm its beneficial effects in treating benign prostatic hyperplasia (BPH). BPH is a condition where the prostate gland may grow from the size of a walnut to as large as a small orange.
Saw Palmetto was traditionally used by American Indians as a remedy for increased frequency of urination during the night, atrophy of the testes, impotence, and inflammation of the prostate and decreased libido in men.
Common Dosage: The recommended dosage is 160 mg twice daily or 320 mg once daily.