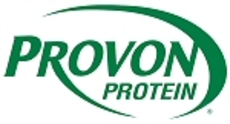 Origin: Manufactured by Nutra Ingredients USA
Overview: Provon® is a pure, natural, highly bioavailable whey protein isolate for growth, energy and health. It is derived from sweet dairy whey and it is biologically active whey protein isolate extracted by a unique cross-flow microfiltration process. It delivers the full spectrum of amino acids naturally found in whey protein, including the highest concentration of branched chain amino acids (BCAAs) for muscle preservation and endurance, as well as other essential amino acids.
Suggested Uses:
It can be used in a wide range of applications, including fortified beverages, performance beverages, powdered sports supplements, nutrition bars, dietetic products and frozen desserts.