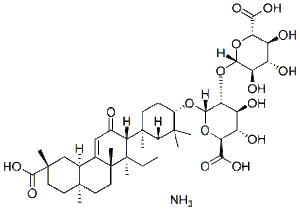 Origin: Derived from licorice root (Glycyrrhiza glabra)
Also Known As:
Ammoniated Glycyrrhizinate
Glycyrrhizic Acid Monoammominum Salt
Ammoniated Glycyrrhizate
Overview: Monoammonium glycyrrhizinate 98% is a derivative of Glycyrrhiza glabra or licorice root. It is a sweet crystalline powder with anti-inflammatory properties. It is soluble in water and hydro-alcohol solutions at recommended dosage level as well as in glycerine and propylene glycol.
It is used in personal care products as a skin conditioning agent. It reduces skin flaking and restores the suppleness of the skin.
In Japan, it is administered intravenously to treat hepatitis and cirrhosis due to its capacity to inhibit liver cell injury.