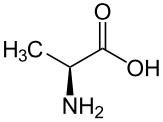 Origin: Produced by the human body but can be sourced from supplements and food such as meat, poultry, eggs, dairy products, fish, avocados, white mushrooms, sunflower seeds, and soymeal.
Also Known As:
(2S)-2-aminopropanoic acid
(S)-2-aminopropanoic acid
(S)-alanine
Overview: L-Alanine is a non-essential amino acid that occurs in high levels in its free state in plasma. Alanine is mostly synthesized by the muscle cells from lactic acid it is considered the most important nutrient for the amino acid metabolism in the blood together with L-Glutamine.
It is produced from pyruvate by transamination. It is involved in sugar and acid metabolism, helps to increase the immune system, and provides energy for muscle tissue, brain cells, and the central nervous system. Alanine also helps to reduce inflammation, protect the prostate gland, and combat illnesses within the body.
Common Dosage: 2.4 to 6.4 grams per day