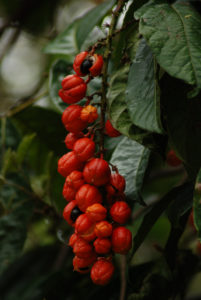 Origin: Derived from the seeds of Guarana (Paullinia cupana, syns.P. crysan, P. sorbilis) plant
Also Known As:  
Paullinia cupana
Overview: Guarana is used for weight loss, to enhance athletic performance, as a stimulant, and to reduce mental and physical fatigue. It is also used to treat low blood pressure, chronic fatigue syndrome, and to prevent malaria and dysentery. Moreover, Guarana seed is also used to enhance sexual desire, to increase urine flow, and as an astringent.
Suggested Use:
Neutralizing free radicals
Reducing fatigue and improving focus
Improving memory
Promoting eight loss
Relieving chronic diarrhea
Treating constipation
Boosting heart health
Providing pain relief
Improving the appearance of skin
Killing harmful bacteria
Protecting against age-related eye disorders
Common Dosage: Currently, there is no standard dosage for Guarana.