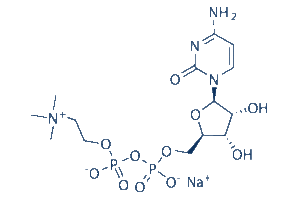 Origin: Naturally-occurring in the body but can be sourced from dietary supplements
Also Known As:
Citicoline sodium salt
33818-15-4
IP 302 sodium
CDP-choline
Overview: Citicoline Sodium is used to treat age-related memory loss, cerebrovascular diseases such as stroke, dementia, as well as head trauma.  Research has shown that it increases a chemical called phosphatidylcholine which is important for brain function. Citicoline might also decrease brain tissue damage when the brain is injured. Citicoline Sodium is also said to help with weight management when used as a dietary supplement.
Common Dosage:  The recommended dosage of Citicoline Sodium is 1000mg to 2000mg daily in healthy adults.