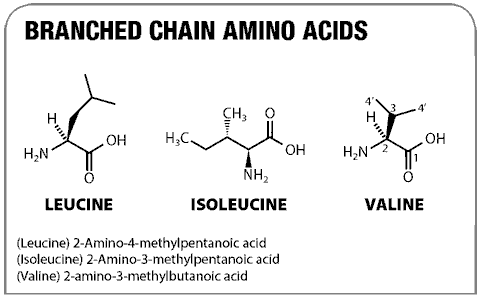 BCAA is a simple abbreviation for Branch Chain Amino Acids. These amino acids help to build muscle tissue and affect muscle growth like no other amino acids on the planet. The essential branch chain amino acids are and include leucine, isoleucine, and valine. Your body cannot make these amino acids themselves which is why your diet is so essential.
Most diets consist of foods high in branch chain amino acids which are necessary for the growth of muscle tissue.  Each amino acid performs a specific function in the production of protein synthesis and provides proteins to different parts of the body. BCAAs are critical in muscle development as they provide approximately one-third of the nutrients that muscles use during synthesis. Branch chain amino acids also affect the production of testosterone and the amount of muscle retention one can have during a dieting phase.
Leucine is metabolized through the fat that is located within the body. Leucine dictates insulin performance as well as insulin sensitivity. With Leucine BCAAs can create more fat loss, muscle growth, and also help to prevent diabetes. Leucine acts as a signal within the body to tell it to use more nutrients to help build more protein but on the flipside it must be taken in proportion with the other two essential amino acids in this group.